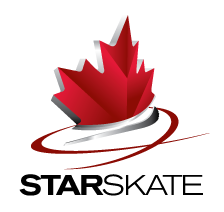 STAR 1-5
Skills, Tests, Achievement, Recognition – this is what STARSkate is all about!
The STARSkate program is where skaters learn figure skating skills in four areas – Skating Skills, Ice Dance, Free Skate and Interpretive.
Skating Skills: is mastery of the basic fundamentals of skating – edge quality, control, power and speed.
Ice Dance: teaches timing, musicality, rhythm interpretation, structure as well as basic skating skills such as edges, flow, control and unison.
Freeskate: Free skating consists of the execution of jumps, spins, footwork, field movements and stroking, either in isolation or performed in sequence to music.
Interpretive: The objective of the Interpretive program is to encourage and develop skaters' creativity, expression, musicality, movement, interpretation of music, as well as the use of space, rhythm, line and style.
STAR 1-5 Program: Skate Canada's new learn to train program that offers a development pathway for skaters who are entering a figure skating program for the first time. The program is comprised of five different levels across three figure skating areas (skating skills, ice dance and freeskate) and introduces participants to key components of figure skating including performance, assessment, and competition. Skaters entering the program will be taught the skating skills in the STAR 1-5 Program and have the opportunity to be assessed through a standardize testing system. Testing is not mandatory but a positive experience to reward the skater's success and to progress through the STAR 1-5 Program.
To view the skating elements included in the STAR 1-5 assessment pathway please visit: Skate Canada's STAR 1-5 Content Overview
Once skaters have completed all assessments in the STAR 1-5 program skaters may choose to continue in higher levels of the STARSkate program (Senior Bronze, Junior Silver, etc.) or transition into in CompetitiveSkate (Pre-Juvenile, Juvenile, etc.)